Do you have fleets in your portfolio which are distressed?  Do they need to significantly lower accident frequency, reduce claims and cut down on all associated costs?
Our Video Telematics system is the perfect distressed fleet solution as its proven to:
1. Successfully reduce at-fault accidents of all types
2. Defend claims and lower claim costs
3. Significantly improve driver behaviour
4. Help recover stolen vehicles
5. Suit fleets of all types and sizes
We have many examples of how our Video Telematics system helps fleets mitigate risks, defend claims, and show great ROI:
– We reduce at-fault accident rates by 65% even for fleets that are not distressed, so you can imagine the results we can provide distressed fleets.
– Our customers use VUE's Video Telematics solution to defend claims and manage all claims "on a daily basis".
– Our systems are "invaluable as a driver coaching tool" and "the Video Telematics equipment more than pays for itself".
Can you see a pattern in which accidents are happening most often?
We can help identify the key issues within your distressed fleets and find a solution. For example, we regularly see results like a 64% reduction in at-fault reversing accidents. We can also help quickly reduce left turn accidents in an urban fleet, which decreases the number of serious accidents and costly claims. We even have solutions for reducing Fork-Lift truck accidents in warehouses.
So, if you'd like a distressed fleet solution that will reduce claim costs and lower accident frequency, then refer your distressed fleets to VUE to get concrete results.
Refer Your Distressed Fleet To VUE
~
Here are five detailed reasons why VUE's Video Telematics system is the perfect distressed fleet solution:
1. Video Telematics Successfully Reduces At-Fault Accidents Of ALL Types
If your distressed fleets have a high number of at-fault accidents (e.g reversing accidents, left turn accidents) then we can help them mitigate risks and reduce accidents of all types.
Reducing Reversing Accidents
The Johnsons Workwear fleet (referred by Aviva) already had low accident rates, and after working together, we identified that their drivers needed help to navigate the more challenging loading bays. In the second half of 2018, Johnsons fitted their fleet with VUE reverse cameras and VMC4 units, which resulted in a 65% decline in their total number of at-fault accidents and a 64% decline in the total number of at-fault reversing accidents in just two years: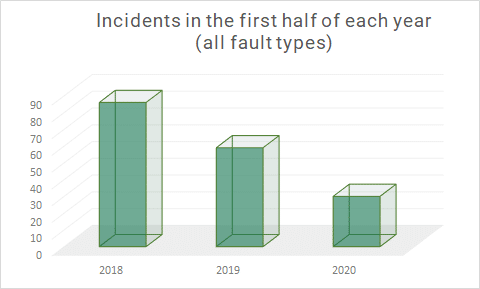 Figure 1 – Johnsons Workwear First Half Year At-Fault Incidents by year
In another example,  Triplex Traffic Management wanted to reduce overall incident frequency and own-fault incidents. "Since the VUE systems were installed, we have seen the incident frequency decrease, there have been no own-fault incidents reported and the claim costs have decreased," explains Neil Buckley (Triplex Traffic Management).
Reducing Left Turn Accidents
Between 2011 to 2016, 23% of all cyclist deaths across the UK were due to collisions with HGVs, even though HGVs make up only 5% of traffic in Britain. If your distressed fleet operates within busy urban areas then left turn accidents or other collisions with cyclists could be a major issue. VUE provides a wide range of vehicle safety equipment which increases driver visibility around a vehicle, eliminates dangerous blind spots and alerts vulnerable road users of left turns.
We provide safety equipment such as left turn alarms, side and reverse on-vehicle cameras, in-cab monitors, side proximity sensors, and reverse alarms. This also helps fleets comply with safety schemes such as the Direct Vision Standard, FORS and CLOCS, which can help them win more work, showing even more ROI for them.
2. Video Telematics Lowers Claim Costs and Defends Claims
Video Telematics is the perfect distressed fleet solution as it helps defend claims and lowers claim costs. Neil Shaw (Aviva) explains "The main benefits as an insurer having a camera system fitted to a vehicle is that it gives us an opportunity to defend claims, particularly those that are spurious. So, fraudulent claims like 'crash for cash'. Having a camera system makes it so much easier for us to defend the client and protect the drivers from prosecution or litigation."
Conversely, Video Telematics is also invaluable in determining whether to admit liability and settle quickly. This helps decrease the time needed to settle a claim, which greatly reduces claim costs overall.
"Without a doubt, VUE equipment lowers claim costs and increases the efficiency of the claims handling process." – John Lowden (NHS Blood and Transplant)
Distressed fleets can also use our VUEcloud application to expedite incident footage to your claims team and reduce the costs involved in a lengthy claims process. Claims teams are immediately notified when the files are received. Most importantly, all video files can be seen and shared without the need to convert them. With all information housed in one place, VUEcloud is an efficient case file management tool that can save you valuable time and money.
"We've a number of incidents where the system has protected our business and proven invaluable, so we're rolling out VUE equipment across the fleet." – Mick Doe (Clipper Logistics)

"The [VMC1] footage is useful to JLA mainly to manage our insurance claims on a daily basis. We use it to extract footage and send to our insurer to help manage the claim itself." – Anthony Marcou (JLA)
3. Video Telematics Significantly Improves Driver Behaviour
VUE's Video Telematics system is also the perfect distressed fleet solution as it improves driving behaviour through footage reviews and the Driver Behaviour League Table, which ranks drivers according to their VUE Driving Scores.
Fleet managers can identify weaker drivers in the VUEconnected application and implement coaching and mentoring programmes or process changes to improve driver behaviour and reduce accident frequency. Drivers can also use the VUEdrive app to monitor their own scores and proactively improve their behaviour.
"We'll review incident footage to identify how to improve driving behaviour and determine the measures we can put in place to get results, such as coaching or mentoring programmes. The VMC8 footage helps us improve driving behaviour across our fleet which reduces accident frequency, and lowers claims and claim costs." – John Lowden (NHS Blood and Transplant)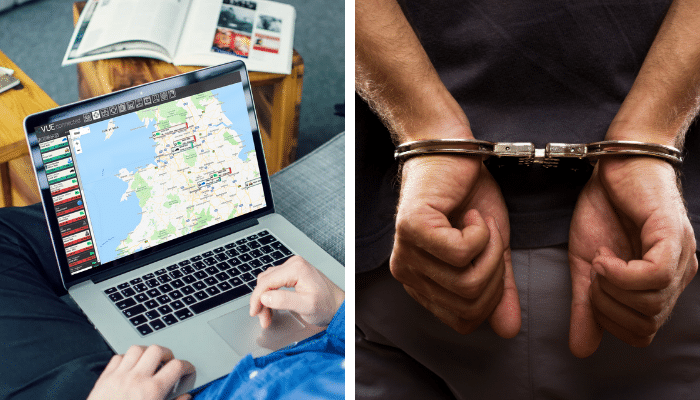 4. Video Telematics Can Help Recover Stolen Vehicles
If theft is an issue, then VUE's Video Telematics equipment can help locate and recover stolen vehicles quickly, cutting down replacement costs.
Fleet managers can track vehicles and quickly view live or past video footage. This is extremely useful after a theft, as fleet managers can view video footage to help identify thieves and quickly share the live location of a vehicle with police to aid recovery.
"We recently had a vehicle stolen from us which we managed to get back due to the VUE tracking and camera playback features. As the thieves had removed the ignition, we couldn't get power to the vehicle to retrieve any footage remotely. Within a day the engineer was at the garage removing the SD card and the customer support team helped me with the software to view the footage." – Neil Buckley (Triplex Traffic Management)
5. VUE's Video Telematics Suits Fleets Of All Types And Sizes
Our recorders and vehicle cameras are suitable for fleets of all types, with all Video Telematics data accessible through our single VUEconnected platform. We work with many  fleets that have a mix of vehicles, and our technology can be easily mixed and matched to get the perfect solution for every vehicle.
Our equipment is suitable for bikes, cars, small vans, fork lift trucks, coaches, tippers, Light Commercial Vehicles (LCVs), Heavy Goods Vehicles (HGVs), and any other type of vehicle.
So, regardless of how big your distressed fleets are or how many types of vehicles they contain, you can always refer them to VUE. We'll work closely with you and your client to help them slash accident frequency, lower claims and claim costs and hopefully remove their 'distressed' label too. Look no further to find the perfect distressed fleet solution, as VUE's Video Telematics is the answer.
Refer Your Distressed Fleet To VUE
~
To find out more about how our Video Telematics system is designed to help our insurance partners mitigate risk and defend claims in their fleets, download our brochure below:
VUE – Your Complete Video Telematics Insurance Solution
If you need to reduce accident frequency, lower claim costs and reduce claim handling time for your distressed fleets then refer them to VUE and our equipment will give them concrete results and show great ROI. Refer your fleets to VUE today to ensure they're equipped with our Video Telematics system, the perfect distressed fleet solution: