We understand that fleets can contain many different types of vehicles, from cars to small vans to HGVs. That's why our VUEconnected range features video telematics technology that can be fitted to all vehicles so that fleet managers can collect and look at data on one online platform.
Using the VUEconnected range, fleet managers can remotely monitor video telematics footage and data for their fleet and identify areas for improvement such as bad driver behaviour or long and inefficient routes. They can also use footage to dispute insurance claims, defend drivers and lower claim costs, all of which will help them demonstrate return on investment.
The VUEconnected range features all the essential vehicle safety equipment that will help you become DVS, FORS and CLOCS compliant. It includes:
HD forward-facing, side and reverse cameras
High-resolution LCD monitors
Powerful video telematics recorders
3G connectivity
High-precision tracking
FNOL reporting
Full telematics capability with driver behaviour reporting
Are you ready for the Direct Vision Standard (DVS) October 2020 deadline? VUE can provide the DVS 'Safe System' for all of your zero-star HGVs so that they're granted DVS permits. Are your vehicles going to be on the road in 2024? Our safety equipment will also be the foundation of any further enhancements required for the 'Progressive Safe System' when the requirements are tightened in 2024.
As the requirements for the DVS 'Safe System' are essentially the same as the FORS Silver S6 requirements, you can also take this opportunity to move towards FORS Silver/CLOCS compliance too. Improving your compliance ratings across the board will demonstrate that you're a responsible employer.  Furthermore, compliance may even give you more opportunities, as many companies now specify that their suppliers must satisfy safety schemes such as FORS or CLOCS.
Find more information below: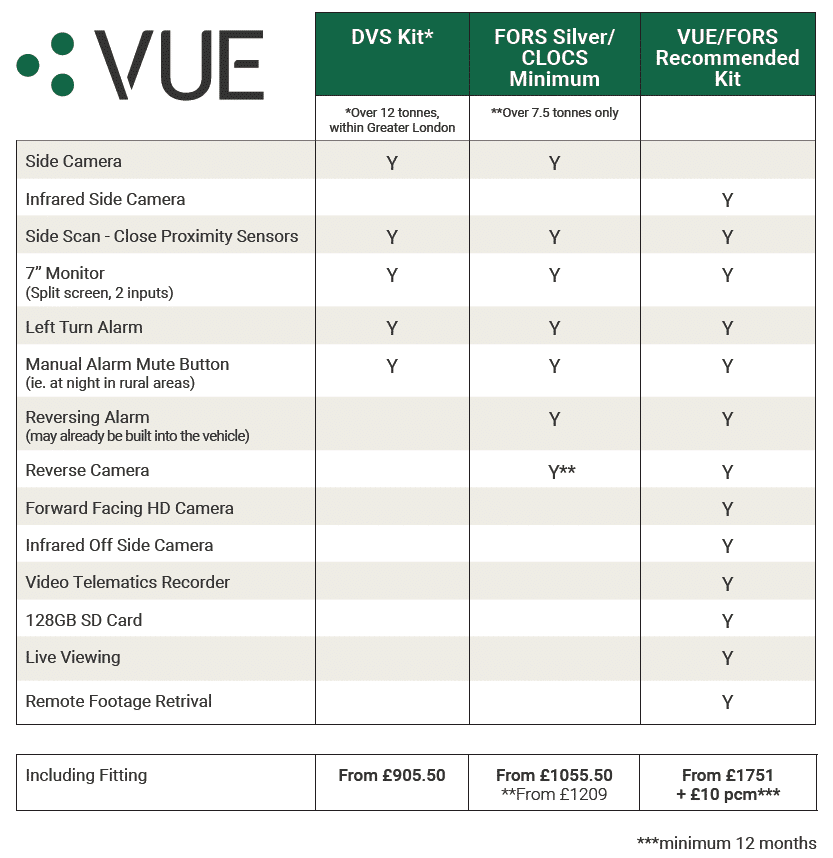 Browse the VUEconnected range for advanced video telematics technology or look at our vehicle safety equipment to become DVS, FORS or CLOCS compliant. Get in touch via our contact page to find out more!