Although the fleet at Johnsons Workwear already had low accident rates before partnering with us, after fitting VUEtech to their vehicles in 2018, they've reported amazing reduced accident rates with a staggering 65% decline in their total number of at-fault incidents.[1]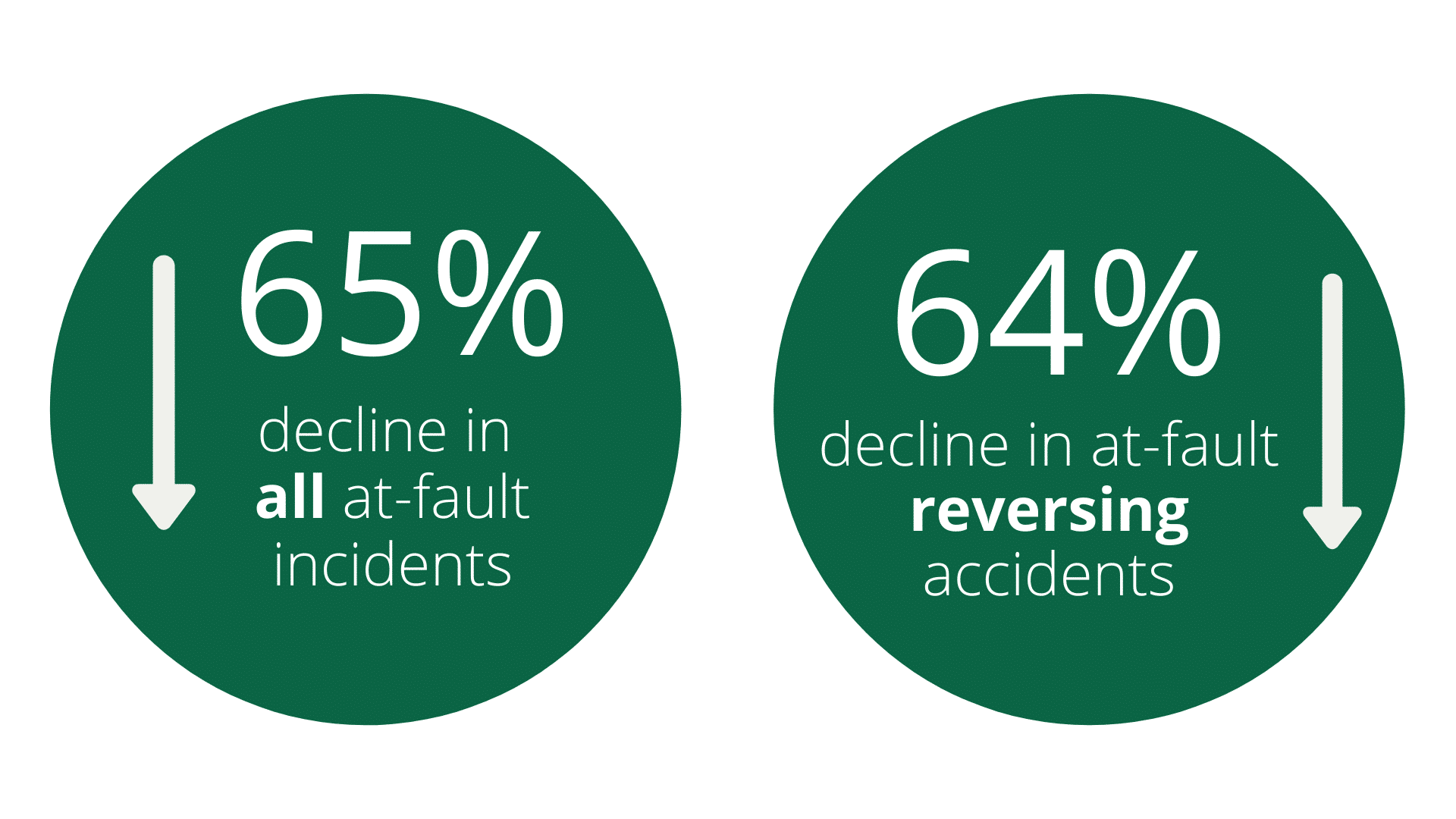 Johnsons was the focus of a previous case study called "'Prevention First' Strategy to Mitigate Risk and Loss". This details how they came to us through their insurance partner, Aviva, and have used VUE's Video Telematics to defend claims using video footage, especially fraudulent and 'crash for cash' claims. The footage is also used for engaging driver training, which continually improves behaviour and helps prevent accidents.
The 65% decline in at-fault incidents further demonstrates Johnsons' dedication to maximising fleet safety and the fantastic Return On Investment they've experienced working with VUE.
Watch the original case study video: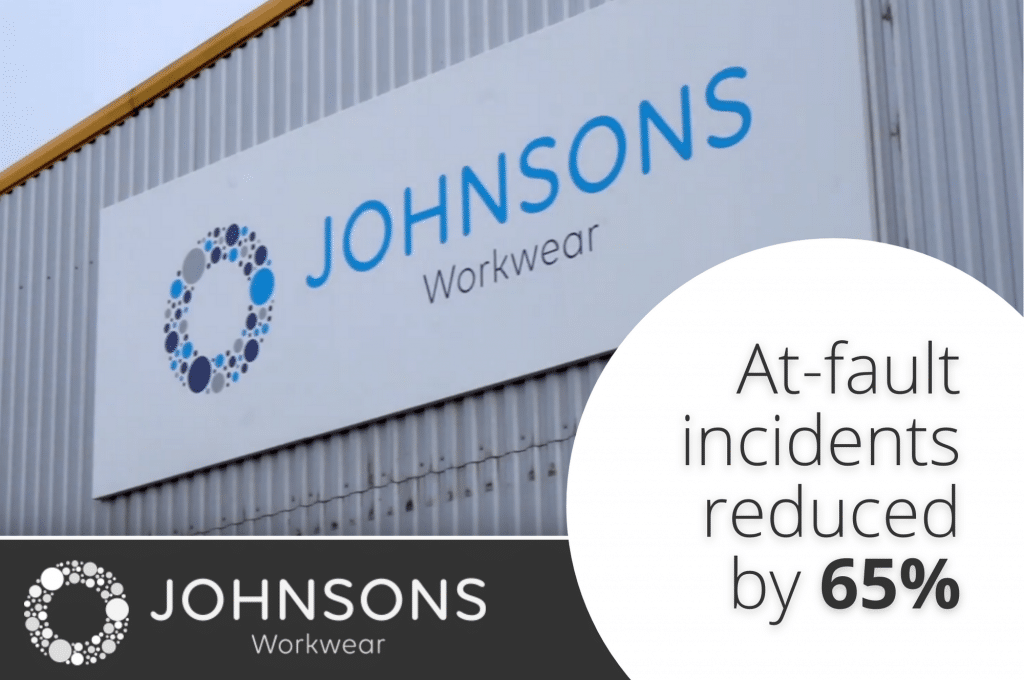 Continual Development
Johnsons are the UK's biggest textile services provider. They process over 1.7 million items each week (in 2019) and deliver work uniforms to customers around the UK with a fleet of 370 vehicles. Their drivers often need to navigate busy city centres and reverse into loading bays to offload uniforms and garments.
After looking at the most common incidents experienced, it was identified that fitting their fleet with reversing cameras would help their drivers navigate the more challenging loading bays and reduce accident rates. As a result, in the second half of 2018, Johnsons fitted their fleet with VUE reverse cameras and VMC4 units.
Ian Greatrex, National Logistics Manager at Johnsons Workwear, says:
"Initially we went to the market in 2018 and trialled numerous products. The trial site unanimously endorsed VUE's product based on the user interface and the video quality.

"We currently use the VMC4 product with the integrated forward facing and reversing cameras, as well as driver facing cameras. We also use the VUEcloud platform which enables us to upload our videos and gives us easy access as well as the insurers."
Reduced Accident Rates and Return on Investment Using VUEtech
Since fitting their fleet with VUEtech in 2018, Johnsons has seen a clear Return On Investment, with a 64% reduction in reversing accidents and 65% reduction in all accidents in the first half of 2020 compared to the first half of 2018.
Johnsons has also seen consistent reduced accident rates with the number of at-fault incidents reported as shown in the figures below:
As you can see, since fitting their vehicles with VUE equipment in 2018, Johnsons has seen a consistent year-on-year decline in the total number of at-fault incidents reported. In Quarter 1 of 2020, Johnsons recorded only 18 incidents, which is a 50% reduction compared to the same quarter in 2019 (36 incidents) and a 63% reduction compared to 2018 (49 incidents).
Ian Greatrex says:
"Looking at the first half of 2020 and the previous two years, you can see a steady decline in reported accidents. This year, our incident numbers are down 49% compared to last year and are down 65% compared to the year before, which is a very impressive achievement."
In the first half of 2020, Johnsons reported only 30 at-fault incidents, compared to 59 incidents in the first half of 2019 and 86 incidents in the first half of 2018 (a 65% reduction in total).
You might think that Johnsons' fleet have travelled less in 2020 because of the COVID-19 pandemic, but this is not true; the number of miles travelled over the past three years has remained fairly consistent. In the first half of 2020, the total number of miles travelled by Johnsons' commercial vehicles was 4.5 million miles, which is only 3% down compared to the same period in 2019 and 1.5% down compared to 2018.[1]
Not only have Johnsons used VUEtech to help their drivers, but they've also used the data recorded by the devices to help inform driver training and policy improvements. Using the video footage recorded, Johnsons can pick out real-life examples of driving to tailor training to individual drivers. Using these examples, they can identify specific areas in which drivers can improve and help them take action.
Ian Greatrex says:
"The use of VUEtech has played a vital role in our reduced accident rates. We now fit VMC4 units with the integrated forward facing and reversing cameras as standard kit on all of our commercial route vehicles."
Working Together With VUE
Neil Shaw, Aviva's Senior Motor Risk Management Consultant who referred Johnsons Workwear to VUE, talks about the benefits of using VUE's systems:
"We're very pleased to see how well the VUE systems have assisted Johnsons Workwear to continually reduce their accident rates since its inception in 2018. The Aviva risk management team has worked collaboratively with Johnsons to develop a 'Prevention First' strategy within the business and have been impressed with how seriously they take fleet safety and their commitment to lowering accident rates. Johnsons have pushed to get a fantastic safety and Video Telematics system in place and have been rewarded with fantastic Return On Investment. VUE are a Specialist Partner of Aviva because of their excellent product offering, great customer service and continual investment in their product development. I look forward to continuing to work with them in the future."
On working together with VUE, Ian Greatrex says:
"VUE's systems have played a vital role in the decline of incidents from 2018 onwards. We've been really pleased with how the product has developed, and VUE are always looking at ways to improve functionality. We look forward to working with VUE in the future and continuing to maximise fleet safety."
Glen Mullins, Director of VUE, adds:
"Johnsons has proved that they take the safety of their fleet and other road users seriously, and are providing their drivers with the best possible tools to decrease the risk of accidents. Our team at VUE are very proud of our partnership and of their success. Getting amazing results like this from our partners drives us to continue innovating, enhancing our technology and helping fleets remain as safe as possible."
~
If you'd like to reduce the accident rate of your fleet and want a quote for your vehicles, then click on the button below:
For more information about our success with Johnsons Workwear, you can read our previous case study or find many more case studies in our case studies section.
If you want to know more about our partnership with Aviva, the insurer of Johnsons Workwear who originally referred them to us, then find out how we were recently featured in their podcast and back to business guide, and go to Aviva's website to find the back to business guide and podcast under the 'Back to Business episode 4'.
________________________________________________________________________________________
References
[1] Johnsons' internal data H1 2020, H1 2019 and H1 2018