VUEscan – Proximity Sensor
| | |
| --- | --- |
| Part number | VUESCAN |
| Description | VUEscan is a fantastic driving aid solution for lorries and Large Goods Vehicles (LGVs), especially when FORS, CLOCS and DVS accreditation is required. Up to six VUEscan ultrasonic sensors will be fitted along each side (nearside and offside) of a vehicle. When the driver indicates at a low manoeuvring speed, the sensors detect any obstacles in proximity to the vehicle and can trigger various devices such as audible alarms and cameras. This eliminates blind spots and avoids collisions. |
Product Specification
VUEscan uses integrated vehicle ultrasonics to help drivers detect obstacles around their vehicles when turning left or right or changing lanes. This driving aid solution is ideal for large vehicles such as lorries and LGVs.
Up to six VUEscan ultrasonic sensors will be fitted along each side (nearside and offside) of a vehicle. When the driver indicates at a low manoeuvring speed (below 15mph), the sensors detect any obstacles in proximity to the vehicle and can trigger various devices such as audible alarms to alert the driver.
VUEscan is different from other ultrasonic solutions in that it can be integrated with on-board camera systems including side cameras and in-cab monitors. If integrated, drivers will also be assisted by their in-cab monitor which will display the connected camera stream (left or right) overlaid with a diagram of their vehicle showing the obstacle location. VUESCAN can also be connected with a left turn alarm, which is a loud external alarm that will sound when the driver turns left in order to alert cyclists.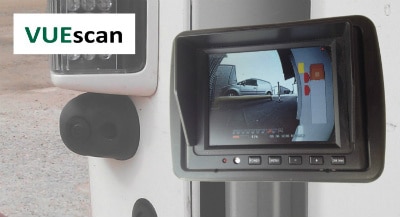 VUEscan is a fantastic tool that helps eliminate blind spots on large vehicles so that drivers can detect obstacles when turning including cyclists and pedestrians. This helps them avoid collisions and limits the number of accidents that occur, especially in busy urban areas where pedestrians and cyclists are at more risk. This equipment can be used to help reach compliance with the Direct Vision Standard. 
If you also need a reversing sensor system, then VUEscan-rear is perfect for you.