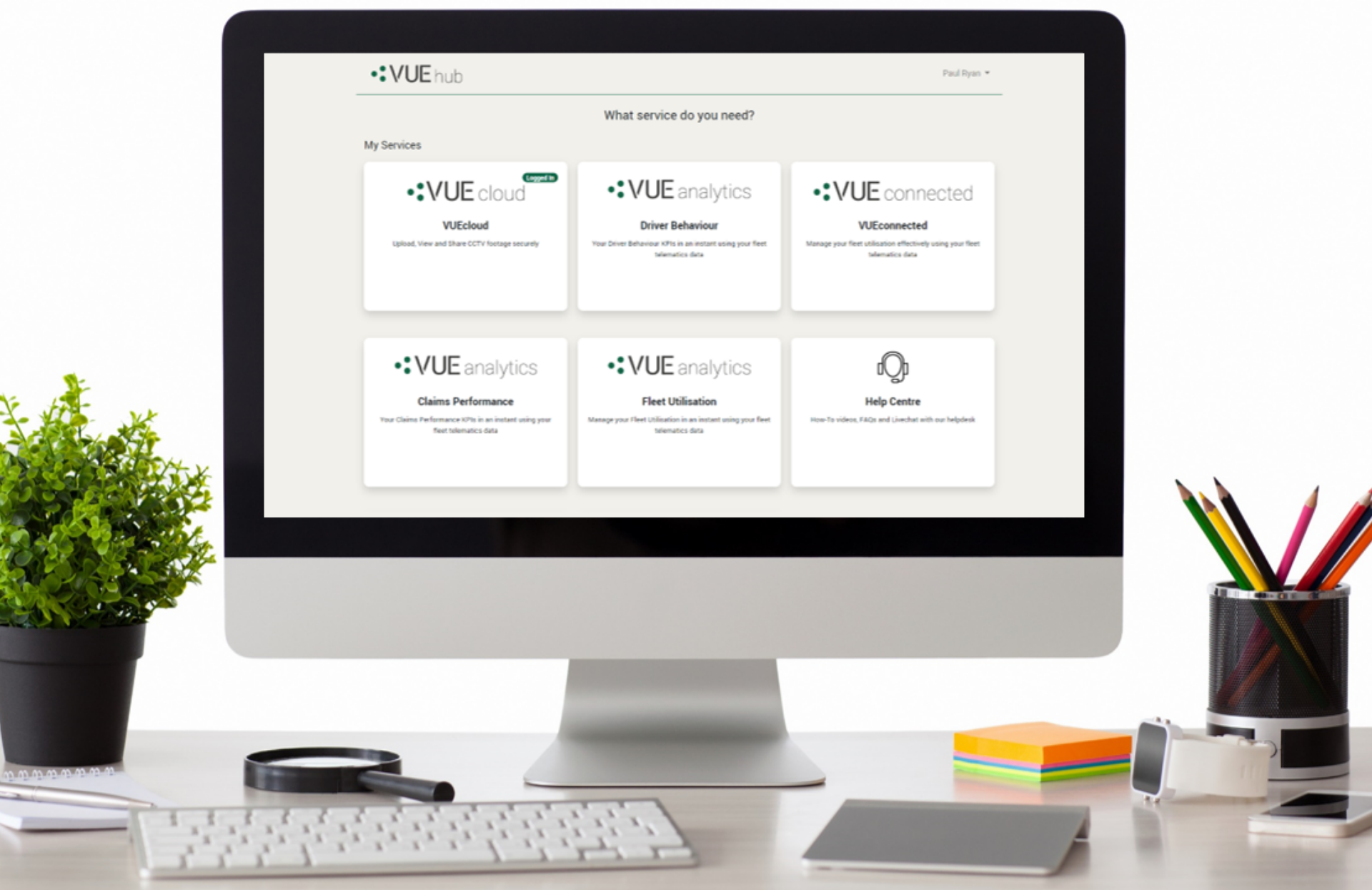 All VUE services and applications in one place
VUEhub is where you access all VUE applications and services from one place. Using a single sign on, you can access VUEconnected, VUEcloud and VUEanalytics from the VUEhub home screen and benefit from a range of features that the platform offers.
Here are some features that VUEhub offers:
Training Resources
Access useful training videos and resources for all applications, which can be bookmarked for future reference
New Features
Access to all future developments and features, only released in VUEhub.
Customisable Home Screen
Move your applications and services around to customise your home screen to your liking.
Company Branding*
The option to add branding with your company logo.
Useful Alerts
Receive the latest alerts and notifications for all VUE applications and services in one place.
Mobile Friendly
Designed and optimised for mobile as well as desktop.
Access Everything
Access all of VUE's online applications and services in one place.
Custom Links
Add custom links to third-party websites and web-based platforms which you frequently use.
What our Customer Beta Testers think about VUEhub:
VUEhub software is really easy to use.
(100% strongly agree or agree)
They feel their information is secure.
(100% strongly agree or agree)
They like the look and feel of VUEhub.
(100% strongly agree or agree)
Access all of VUE's services, tools and applications including...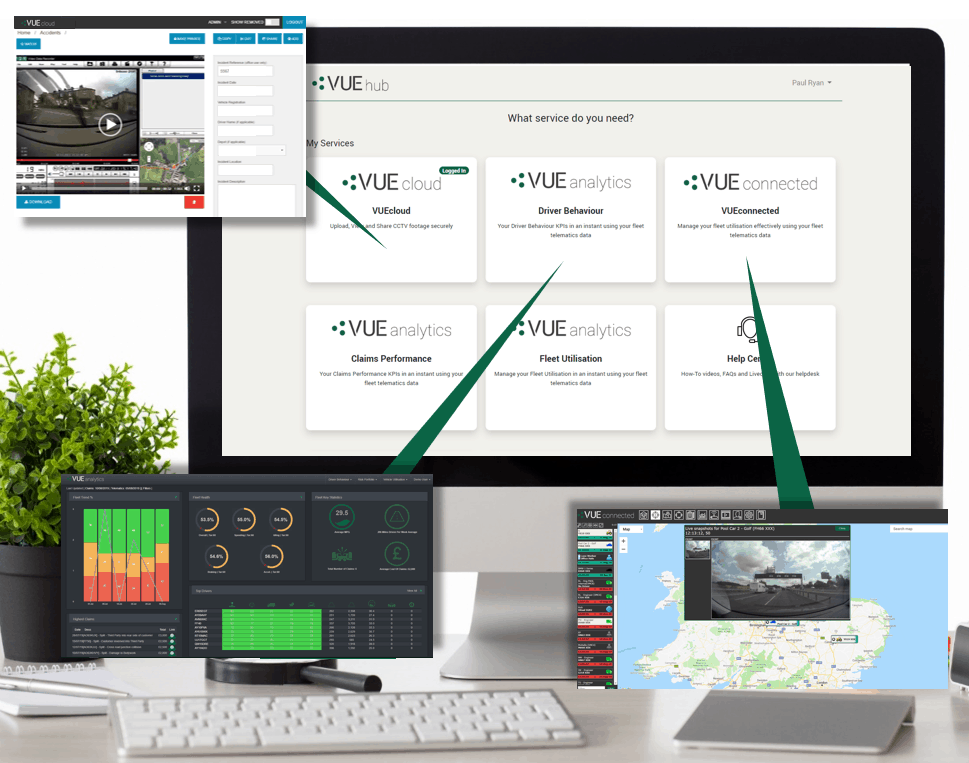 More about VUEhub:
With a single sign on, you can not only access all VUE applications from the home screen, but also benefit from a range of useful training resources.
All future developments to our applications and all new services will be released directly onto the VUEhub platform. We can't wait to show you what we have in store!
"It's very easy to use. Having one login for everything just saves time and makes tasks seem effortless. VUEconnected is used so much by our depots and it only takes 30 mins training in order to get them up to speed, and this can be done remotely which is so valuable when you are dealing with depots all across the country."

Leading European Courier

"It's a great system and having the ability to log in live to a driver and pull footage for accident investigations is vital. The system is very easy to use."

Leading European Courier

"VUEhub is market leading software."

Global Insurer

"VUEhub is easy to use and the image quality is excellent."

Top Ten Global Logistics Provider

"VUEhub helps with accident investigation and lowering the risk of bad behaviours."

Leading European Courier
VUE is Your Fleet Risk Management Partner
With over 20 years' experience in the vehicle CCTV market, you can rest assured that VUE has the necessary expertise and knowledge needed to help our customers. Our Video Telematics hardware is market leading and our software solutions are purposely built in-house to make sense of customer data and bring about positive change in fleets. We partner with fleet operators and global insurance companies to help fleets improve driver behaviour, increase safety, minimise costs and reduce risk. On roads throughout Britain and Europe - what we do matters, as what we do makes a difference.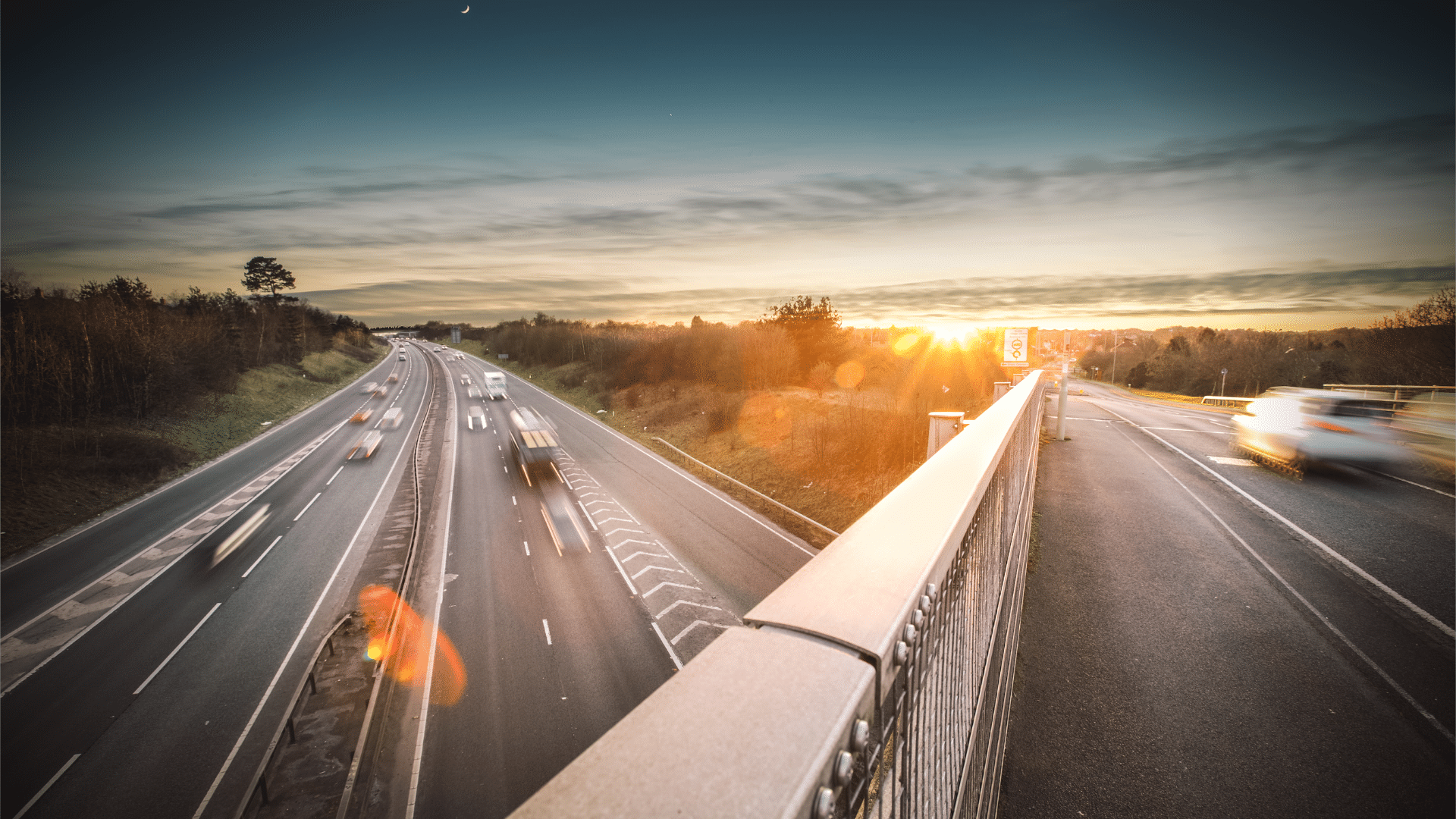 Phone
0161 877 2257
Email
Address
510 Metroplex,
Broadway,
Salford Quays
M50 2UE
*Feature requires paid subscription