Are you having trouble retaining fleets in your portfolio during the COVID-19 pandemic?
Do you need help maintaining and growing your portfolio?
VUE's Video Telematics, as an added-value proposition, is the answer.
We understand that these uncertain times are challenging for fleets and their insurers alike, and that some clients are switching insurance providers to save a few hundred pounds on their premiums. Luckily, our Video Telematics technology is the perfect way to add value to your policies which is ideal for increasing client loyalty and driving retention in fleet insurance during this crisis.
Here's how our technology will help increase fleet renewals in your portfolio:
Useful Software To Quickly Nurture Client Trust

All of our software applications are designed to increase engagement between our insurance partners and their fleets, to help create a collaborative approach to mitigating risk, build mutual trust and drive retention.
Using VUEcloud and VUEanalytics, you can easily and quickly work with your fleets to proactively mitigate risk instead of having the majority of contact with them through a broker. Actively engaging with the fleets in your portfolio is made easier and much quicker when you can both see the same data no matter where you are. Spending less time analysing and sharing this data is great for insurers, and more time discussing it with your clients shows that you are invested in their company and want to work closely together to mitigate risk and defend claims.
This proactive risk management builds mutual trust between all parties and shows your fleets that you provide added value on top of the premium that you charge. Having increased engagement with your fleets through our software builds loyalty and trust, which is another mental barrier to moving insurance providers as they're invested in the relationship.
Secure Incident File Storage As An Added-Value Service
VUEcloud is our online application for securely storing, sharing and viewing video and other media; it is used as an efficient case file management tool in the claims handling process.
When a VUEcloud account is owned by our insurance partners, their claims teams can request and securely store incident footage and all other relevant files on the platform, and easily share this with third parties for a quick claims handling process. Their fleet clients can then use the platform for handling claims and for staff training.
As VUEcloud stores a library of highly important incident data, fleets are much less likely to switch insurance providers as they would lose all of this data in the process. This can be a huge loss to their business, especially if VUEcloud contains incident footage which is being used to defend an ongoing claim. Thus, using VUEcloud is perfect for driving retention in fleet insurance and helps our insurance partners maintain and grow their portfolio.
Detailed Fleet Risk Management Tools To Successfully Mitigate Risk and Lower Premiums As An Added-Value Service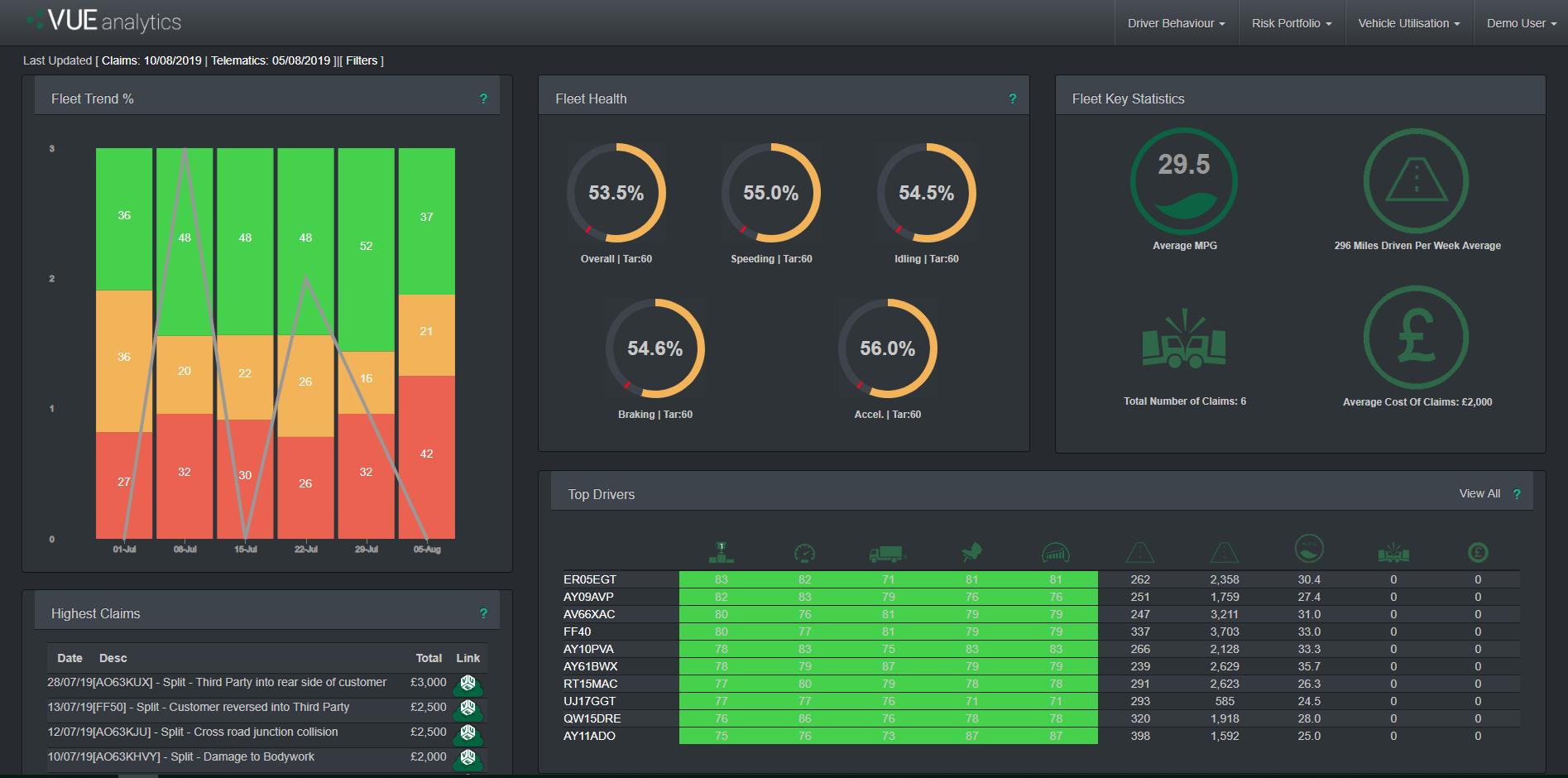 The VUEanalytics application is an invaluable fleet risk management tool that quickly gives both underwriters and fleet managers a highly detailed picture of a fleet's risk profile. The ability to use the platform to identify the areas of highest risk for a fleet, advise them on mitigations and see results is a great added-value service that is perfect for driving retention in fleet insurance.
The application displays advanced telematics and claims data in easy-to-understand charts, along with data on:
– The areas of highest risk for a fleet
– A claims history with risk trends
– Types of roads being driven on (urban, rural, etc.) with mileage and duration
– Predictions on which drivers are most likely to have an accident with an injury based on previous performance
Analysing the data, insurers can advise their fleets on the best ways to mitigate risk such as through installing safety equipment or implementing driver mentoring programmes. Insurers can then measure the effectiveness of any action taken through the telematics data recorded, and reward fleets who have successfully mitigated risk with lower premiums to drive loyalty and encourage renewal. This is especially important for reducing accidents and claims in distressed fleets. So, if you'd like to work with your fleets to target and mitigate their areas of highest risk, charge appropriate premiums and increase fleet retention then VUEanalytics is the perfect tool for you.
~
If you need to increase retention, build trust and co-operation, and mitigate risk then refer your fleets to VUE and our equipment will give them concrete results and show great ROI:
To find out more about how our Video Telematics system is driving retention in fleet insurance for our insurance partners, download our brochure below:
VUE – Your Complete Video Telematics Insurance Solution
We also published an article around how we provide perfect distressed fleet solutions if you need to lower incident and claim numbers with any distressed fleets in your portfolio:
5 Reasons Why VUE's Video Telematics Is Your Distressed Fleet Solution
Additionally, if you need to reduce accident frequency, lower claim costs and reduce claim handling time in any of your fleets then refer them to VUE and we'll work with you and your client to show great ROI: