At VUE we're always trying to give you exactly what you need, and our in-house R&D team and in-house development team work hard to solve your problems.
VUEconnected Features Updates:
2021
Exciting new features in VUEconnected – Enhancements to Trip Replay and Video Request functions.
Our Trip Replay function now has an optional section at the bottom of the screen (see picture below). When a journey is selected, this new section shows the vehicle speed against the roads speed limit, making it easy to see where speeding incidents happened. If you have any inputs hardwired into your recording devices (e.g flashing lights, sweepers, etc) you can also see when these inputs are in operation.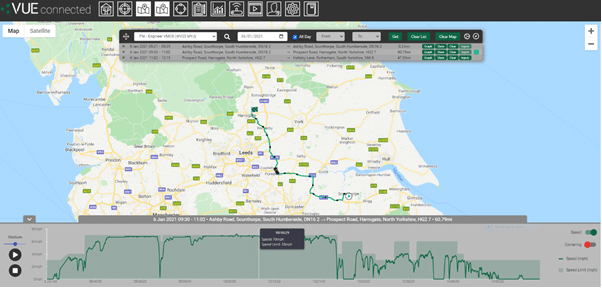 You can now click anywhere on the selected trip on the map to request video from that point in time. This is useful as you often know the location of an incident more accurately than the time.
We've made improvements in the video download process to improve the deliverability of video footage when the vehicles device loses mobile signal (GSM) or is in an area with bad reception; this is particularly useful for either longer or multiple camera video requests.
In the Video Replay function you can now see a "Video Request Progress Bar" to show that your video has been requested from the device, and the amount that the device has sent.
What's more, as soon as the "View" button is visible, you can start watching any received video before the full download is complete.

4th July 2020
Your VUEconnected Portal is now accessed at VUEconnected.com  
We've made a few upgrades to your VUEconnected portal:
1. The portal is now accessed at VUEconnected.com  
2. How driver scores are calculated has been updated to be even more accurate.
Don't worry, all your existing data is still be available when the VUEconnected portal goes live again.
We know change can be tough, but these changes are essential for some new features that we have in the pipeline!
16th September 2019 – VUEconnected v 2.0.0
We know how important it is that you can get footage from your vehicle when you need it, and that the equipment has you covered. We've therefore added a great new feature to VUEconnected which shows when a camera or recorder is disconnected or faulty.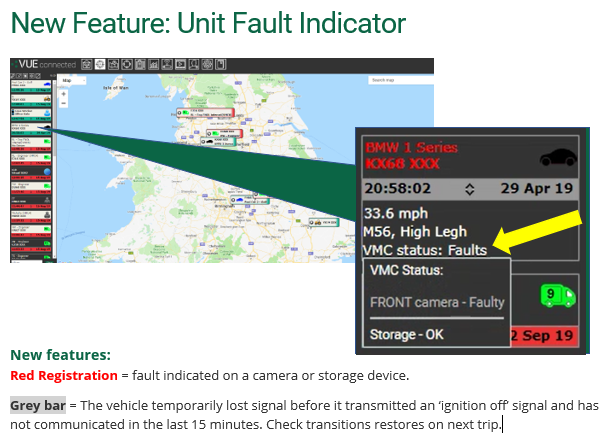 The full list of new features is:
The 'Track' page sidebar shows any Camera faults
The 'Track' page sidebar shows any storage device faults (SD/HD)
Filter the track page sidebar to show faulty units
The video list states if videos were not able to be downloaded
We can enable the option to download up to 15 minutes of video from VMC8 units
24th July 2019
Share vehicle location with multiple e-mails
Improved Calendar Alerts
Improved Driver ID system
Vehicle Idling reports for all devices
Licences Checking Report – reminder sent 3 months before expiry
2nd May 2019
This newest update includes some extra new VUEconnected features that you have asked for, which include:
'Vehicle idling' alerts (set various time delays)
'Unauthorised User' alert (when driver swipes in and shouldn't be driving)
'Vehicle input' alerts (input is active or duration-of-use)
More 'Calendar Alert' options
Share vehicle tracking to multiple email addresses
Filter and quick-select multiple drivers, vehicles and groups
Intelligent search on all maps
April 2019
We're delighted to announce that YouTrack is now called VUEconnected; and that it's got a fresh new look plus some exciting new features.
We've changed the name to make it part of the VUEgroup family of products. Don't worry; you'll still get the same great product, functionality and service that you always have. In fact, YouTrack has been managed by VUE since mid-2017.
---
Let us know what you think!
Get in touch to let us know what you think of the new look and features, or ask about complimentary products. We'd love to hear from you: 0161 877 2257
Get more of the things you love:
VUEconnected is at the heart of the VUE services. Our in-vehicle tech collects the data, which you then view in the VUEconnected portal. We've then additional software tools to securely share the CCTV footage, analyse the telematics data alongside claims data, and a driver-facing app so drivers can manage their own performance. They're great separately but even better when used together!