We're very excited to announce that the UK's first all-electric ambulance includes VUE's innovative Video Telematics technology!
Designed, developed and produced in Bradford, the Electric Dual Crewed Ambulance (E-DCA) is now being trialled by the West Midlands Ambulance Service (WMAS). Not only is it the UK's first all-electric ambulance, but it is also the only zero-emissions ambulance to operate on the front-line in Europe.
The E-DCA is fitted with only the best and highest quality technology, which is why VUE's innovative Video Telematics equipment is featured on the vehicle, including:
– A highly durable VMC8 Video Telematics recorder
– Two vandal-resistant microdome cameras
– A discreet and robust VMC HD forward camera
Karl Roper, Motor Claims Manager at WMAS, explains:
"VUE's Video Telematics has certainly proven to be worth its weight in gold for us. It helps protect our paramedics if incidents occur that might threaten their safety and helps us defend our reputation against fraudulent claims.

"VUE's Video Telematics provides footage for investigations which helps us manage claims effectively with the footage recorded and has lowered claims costs significantly.

We chose to fit VUE's Video Telematics equipment on the WMAS's first all-electric ambulance because of its innovation and reliability. WMAS has been working with VUE for years because of the quality of their equipment and fantastic customer service."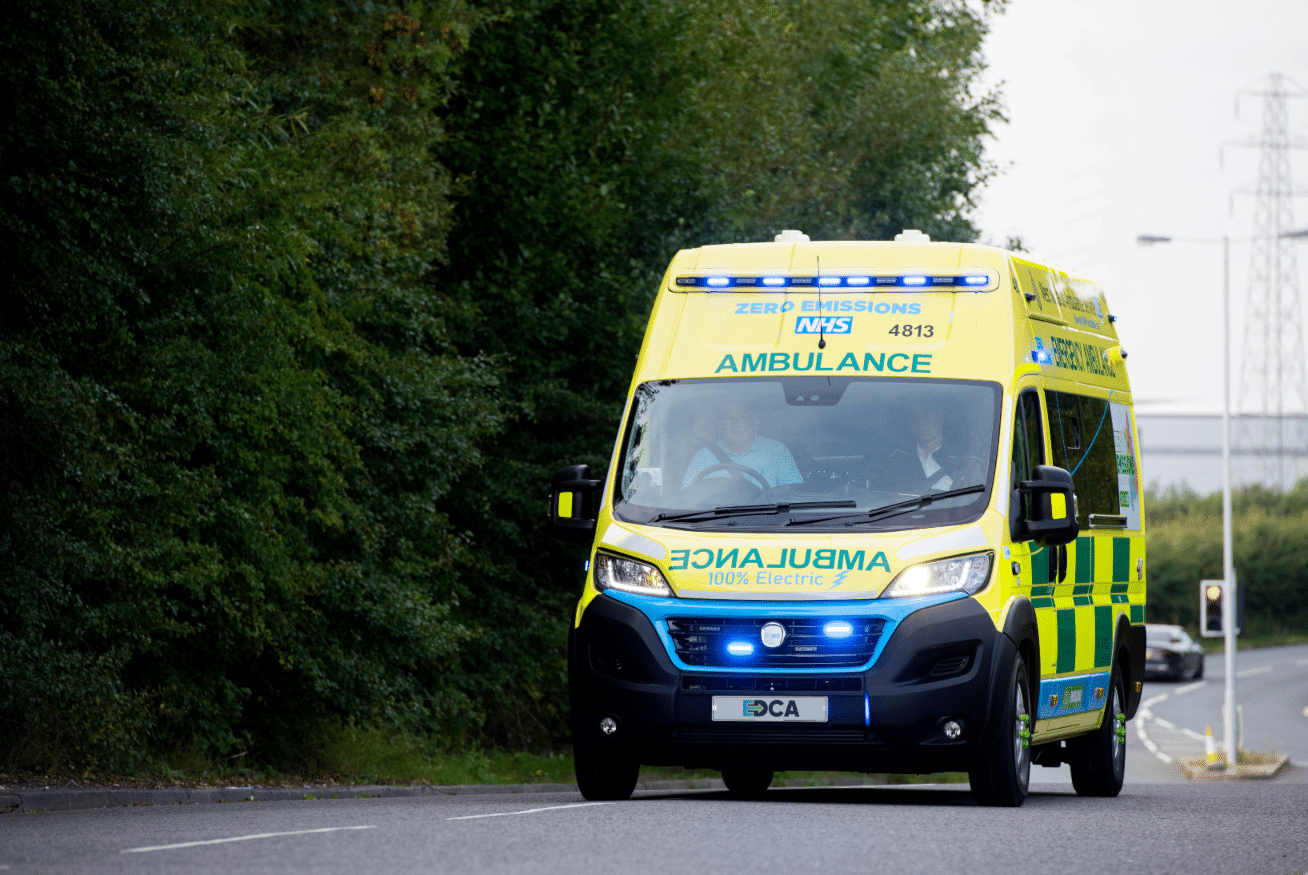 Innovative Video Telematics And All-Electric Vehicles In A Zero-Carbon Future
The E-DCA can achieve a top speed of 75mph and travel up to 110 miles on a single charge with a recharge time of only four hours. Further developments are being made to the vehicle to decrease its charge time to only two hours. The E-DCA is designed for quick and efficient use, with its batteries mounted low in the chassis for an optimum centre of gravity which allows its drivers to achieve rapid acceleration and nimble handling, perfect for front-line use.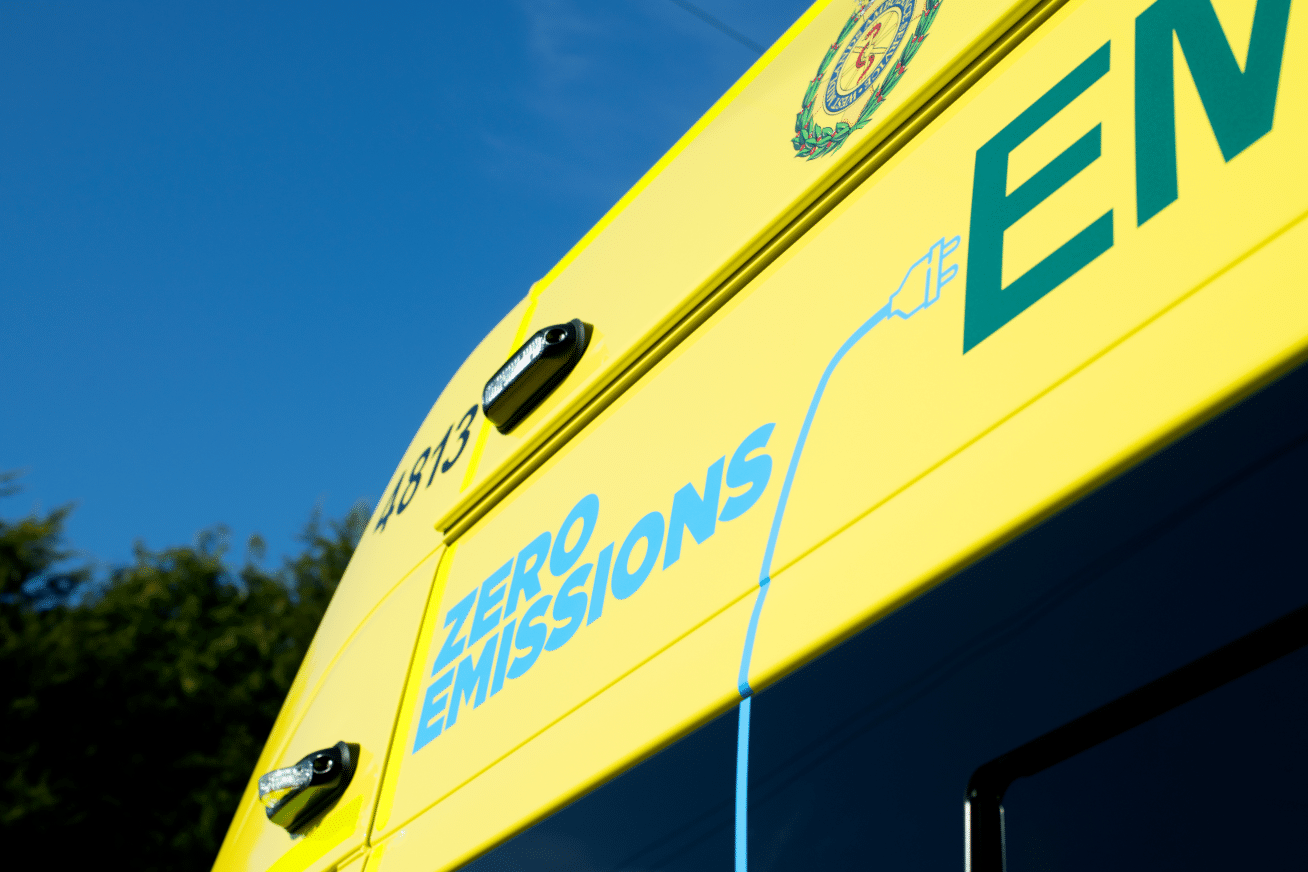 The E-DCA was developed by the UK's market-leading ambulance conversion specialist, VCS, in collaboration with the WMAS. The introduction of the E-DCA is a major step forward for the WMAS and the emergency services sector in reducing the carbon emissions of their vehicles and implementing more zero-emission vehicles across the blue light sector to support the global demand for zero-emission transport.
The equipment from VUE was chosen because of its low power consumption, lightweight design and reliability.
VUE has supplied innovative Video Telematics equipment to fleets in the Emergency Services for over a decade. VUE continues to develop and evolve its technology to fit the changing needs of the sector, and we're very excited to be a part of its push towards zero-emission vehicles and a zero-carbon future.
Glen Mullins, director of VUE, says:
"We're thrilled to have our equipment featured on the UK's first all-electric ambulance. We know that the emergency services fit only the best equipment on their ambulances, which is why we're very happy they've chosen to use VUE's innovative Video Telematics technology on this UK first. WMAS is taking a major step towards a zero-carbon future by rolling out the E-DCA and we fully support them in their mission for a greener future. We've helped hundreds of fleets reduce their fuel and CO2 emissions and within VUE we're doing our part in protecting the environment, such as reducing waste, providing our staff with reusable VUE water bottles and promoting cycle-to-work schemes."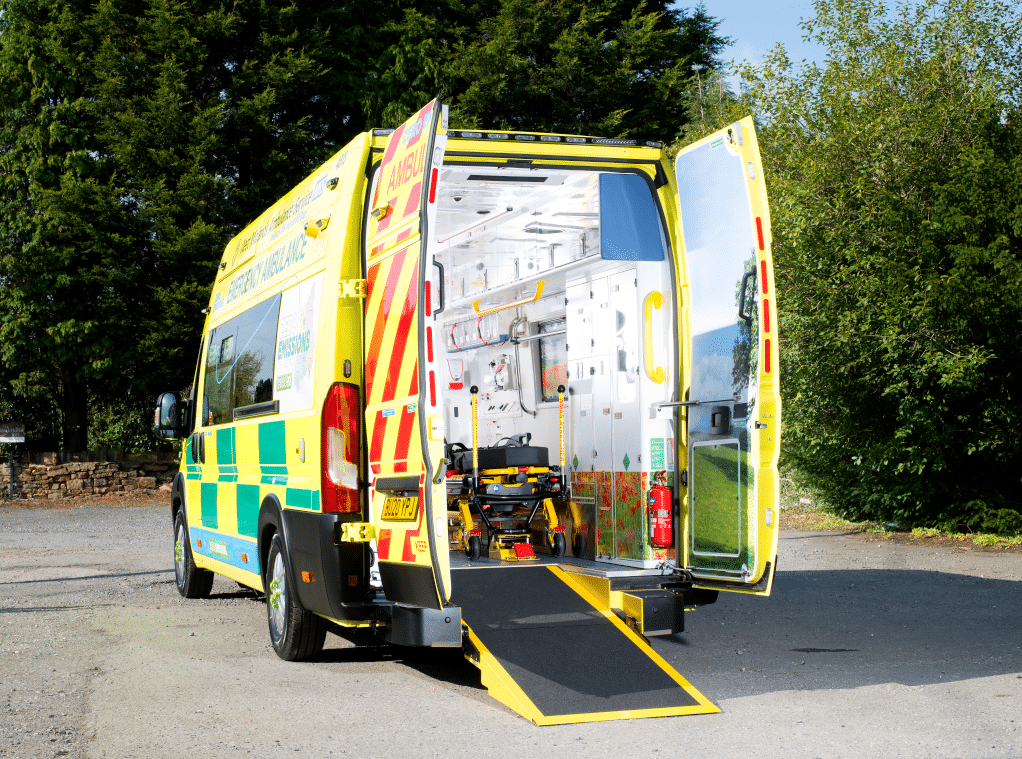 Anthony Marsh, Chief Executive of West Midlands Ambulance Service University NHS Foundation Trust, adds:
"West Midlands Ambulance Service has been at the forefront of developing ambulance technology along with our partner VCS. By using aircraft-style technology we have created the most hi-tech and lightest ambulances in the country which reduces our impact on the environment by reducing CO2 levels and ensures that patients receive the highest standards of safety and comfort.

"It is therefore a logical next step for us to be the first ambulance service in the country to introduce a fully electric ambulance.

"We are delighted to be working with VCS to develop and trial the technology to run an emergency ambulance that will have zero emissions. Given we operate in a clean air zone like Birmingham, this is a sensible and advantageous step forward for so many reasons. We look forward to working with our staff to integrate the vehicle into frontline operations while using it as a testbed to develop even more advanced vehicles."
Mark Kerrigan, Managing Director at VCS, says:
"As the world moves away from fossil fuels and towards a zero-carbon future, it's important that the emergency services sector keeps pace. VCS has always been at the forefront of emergency service vehicle innovation, so we saw it as our duty to bring the pioneering E-DCA to market. The vehicle launched today is a strong first step on the path to electrification and we're confident that by working with outstanding operators, such as West Midlands Ambulance Service, we can continue to innovate and improve our zero-emissions offering."
~
If you work in the emergency services sector and need to lower claim costs and reduce accident frequency in your fleets, VUE's innovative Video Telematics technology is perfect for getting results and showing great ROI. Click below to get started!
If you'd like to learn more about how our Video Telematics solutions help fleets in the Emergency Services sector, then go to our page below:
Video Telematics Solutions For Emergency Services
If you'd like to see how other fleets are showing amazing ROI using Video Telematics, including the NHS Blood and Transplant fleet, read our most popular case studies:
NHS Blood and Transplant Show Great ROI Using Video Telematics
Orbis Protect See Clear ROI From Video Telematics Solutions
You can also find many more case studies in our dedicated Case Studies section.