VUEdrive App
| | |
| --- | --- |
| Part number | VUEdrive |
| Category | Video Telematics Software Solutions |
| Description | Drivers can see a rating for specific trips, or an overall rating for the day and week, with a map showing the journey route.  It's easy to see areas of development with the detailed breakdown of scores for harsh acceleration, harsh breaking, cornering and speeding data. |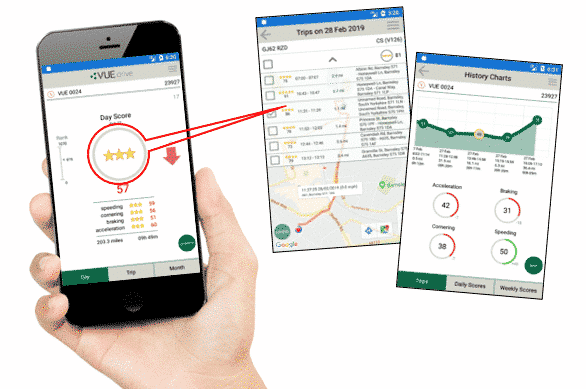 Product Specification
We all want to reduce accidents on our roads, and helping drivers improve their behaviour is key to this.
VUEdrive is an intuitive App which gives individual drivers star-ratings to help improve their behaviour.
Drivers can see a rating for specific trips, or an overall rating for the day and week, with a map showing the journey route.  It's easy to see areas of development with the detailed breakdown of scores for harsh acceleration, harsh breaking, cornering and speeding data.
Rather than a percentage score we use a star system as we believe drivers always want more stars and so continue to work harder to get good star ratings. As the overall fleet improves it becomes harder to get more stars, so over time all the fleet improves.
The data comes from our VUEmatics Connected devices and also provides data back to the fleet managers via the VUEconnected portal or via VUEanalytics.