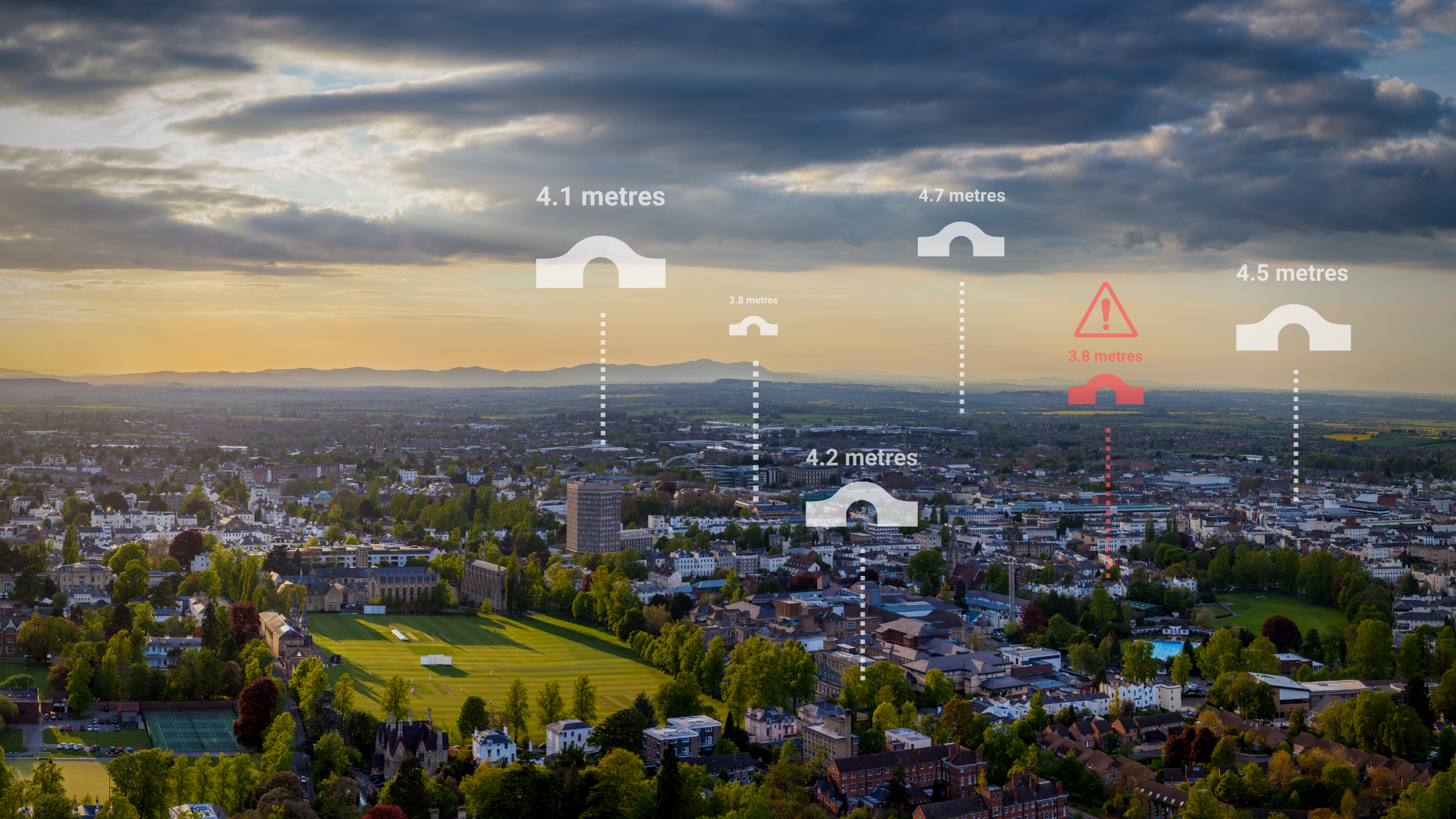 Low Bridges: why do bridge strikes keep occurring?
What's the issue?
Bridge strikes have huge consequences for fleets year on year with the average collision costing around £13, 000. In addition to paying for inspections and repairs to road infrastructure, vehicles and other road users, companies are liable to pay for any disruption the strike has caused. Even if the damage is minimal, fleets could be fined significant amounts if other parties have been greatly inconvenienced.
More importantly, both drivers and operators who crash into a bridge as a result of careless or negligent behaviour could also have their licence revoked and face the possibility of prosecution.
For effective bridge strike prevention, it's important to understand why they happen so that measures can be put in place to minimise the risk of them occurring.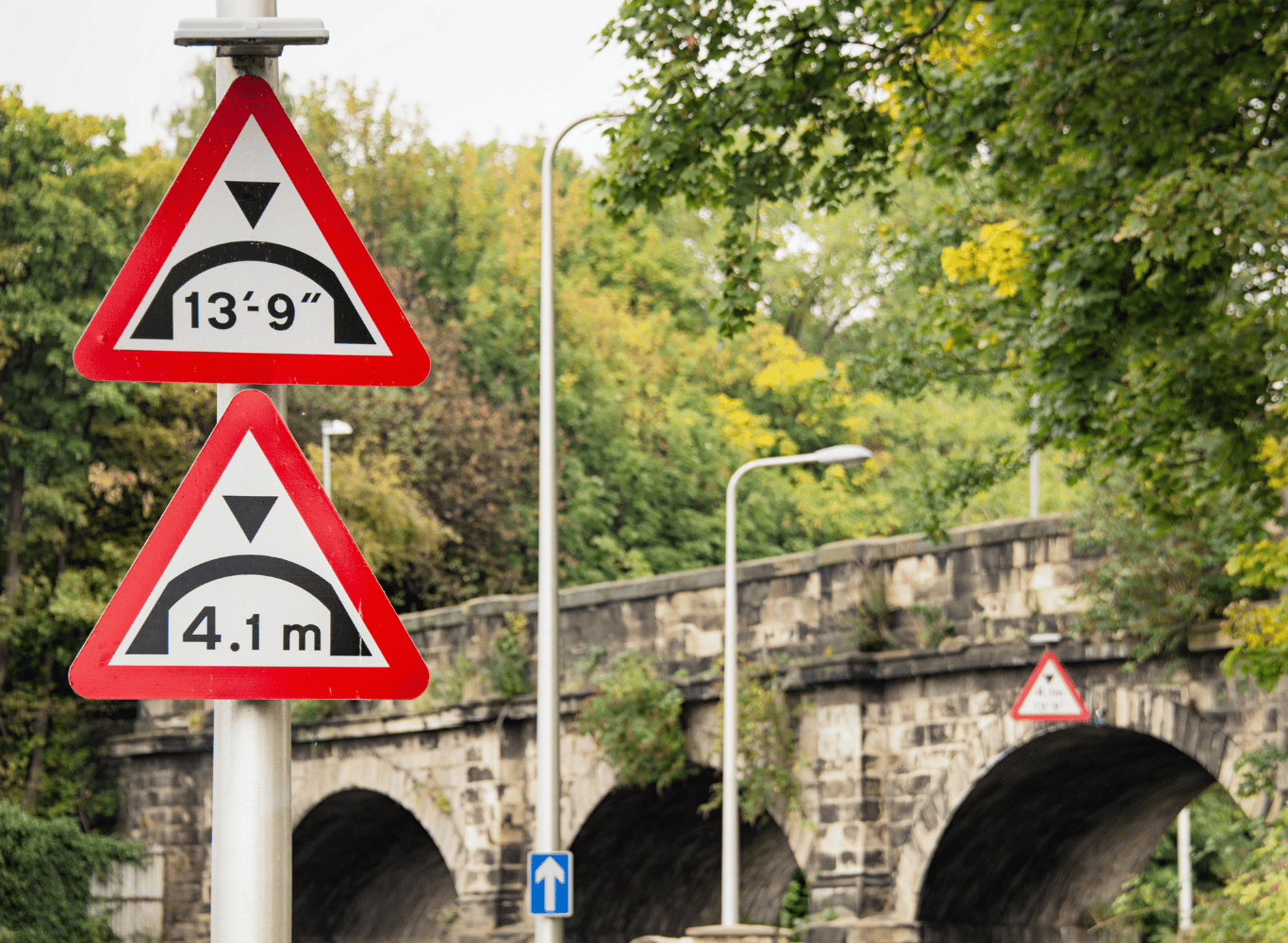 Drivers failing to measure the height of their vehicle
According to a survey conducted by Network Rail, 43% of lorry drives admitted they did not know the size of their vehicle
If a driver doesn't know the height of their vehicle before heading out on a journey, this makes any road signage stating the maximum height permitted under a bridge redundant.
With the Low Bridge Alerting System, the driver doesn't need to know the height of the trailer their tractor is attached to, as it has already been inputted at installation. With no driver input needed, this means they can focus on their driving and let this innovative solution alert them when a low bridge is nearby.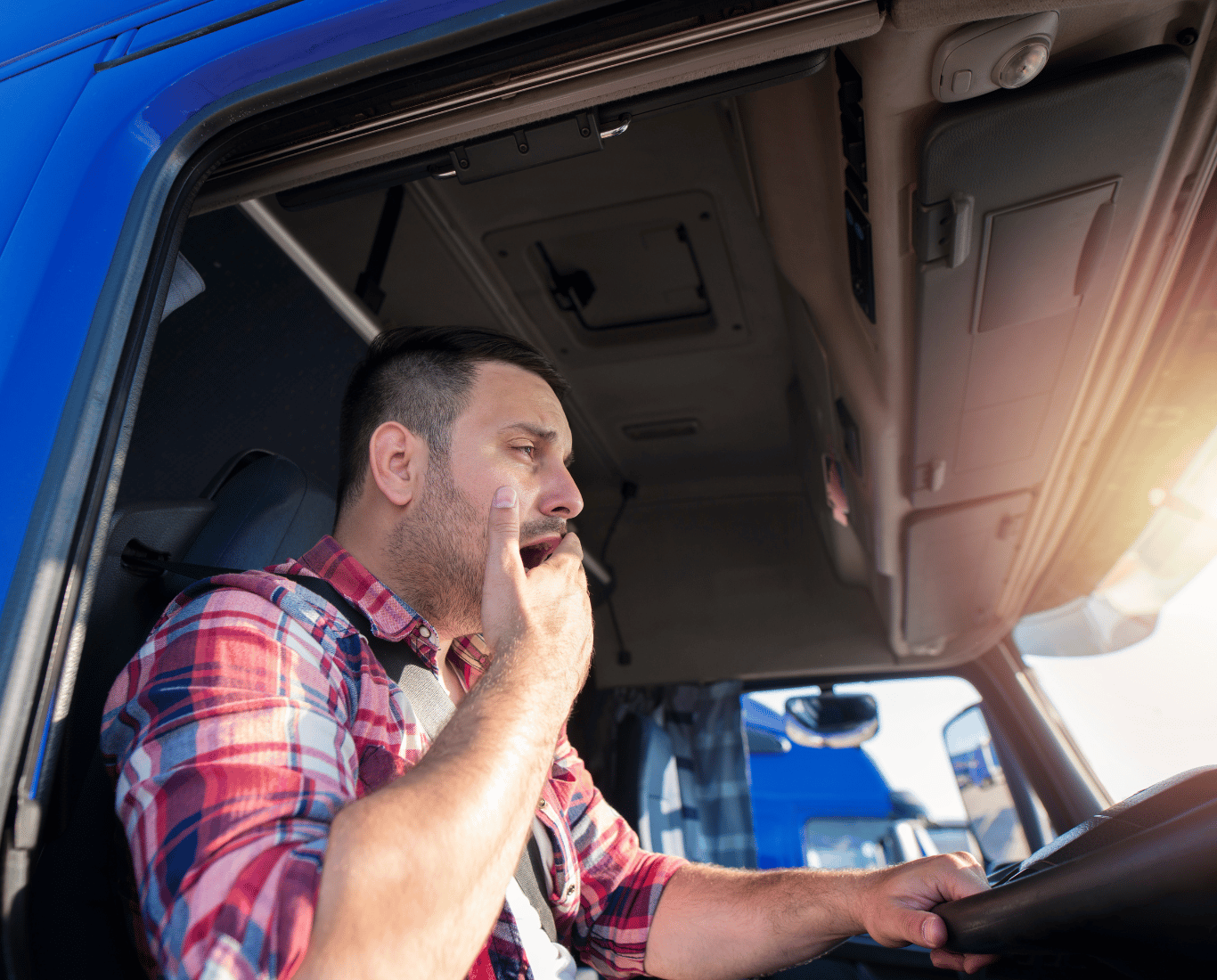 Driver Fatigue
An estimated 10-20% of crashes are fatigue-related.
Falling asleep at the wheel can see drivers travelling hundreds of metres without knowing it, so it's no surprise that low bridge collisions are a frequent consequence of this behaviour.
DDAI reduces the risk of collisions caused by tiredness by alerting the driver when they're showing signs of fatigue. Making the driver aware of their state encourages them to stop and take a break, helping to prevent bridges from happening.
In addition to this, tired drivers often have their judgement impaired or may not see signage at all so the in-cab alerts from the LBAS makes the driver aware of the potential danger in front of them.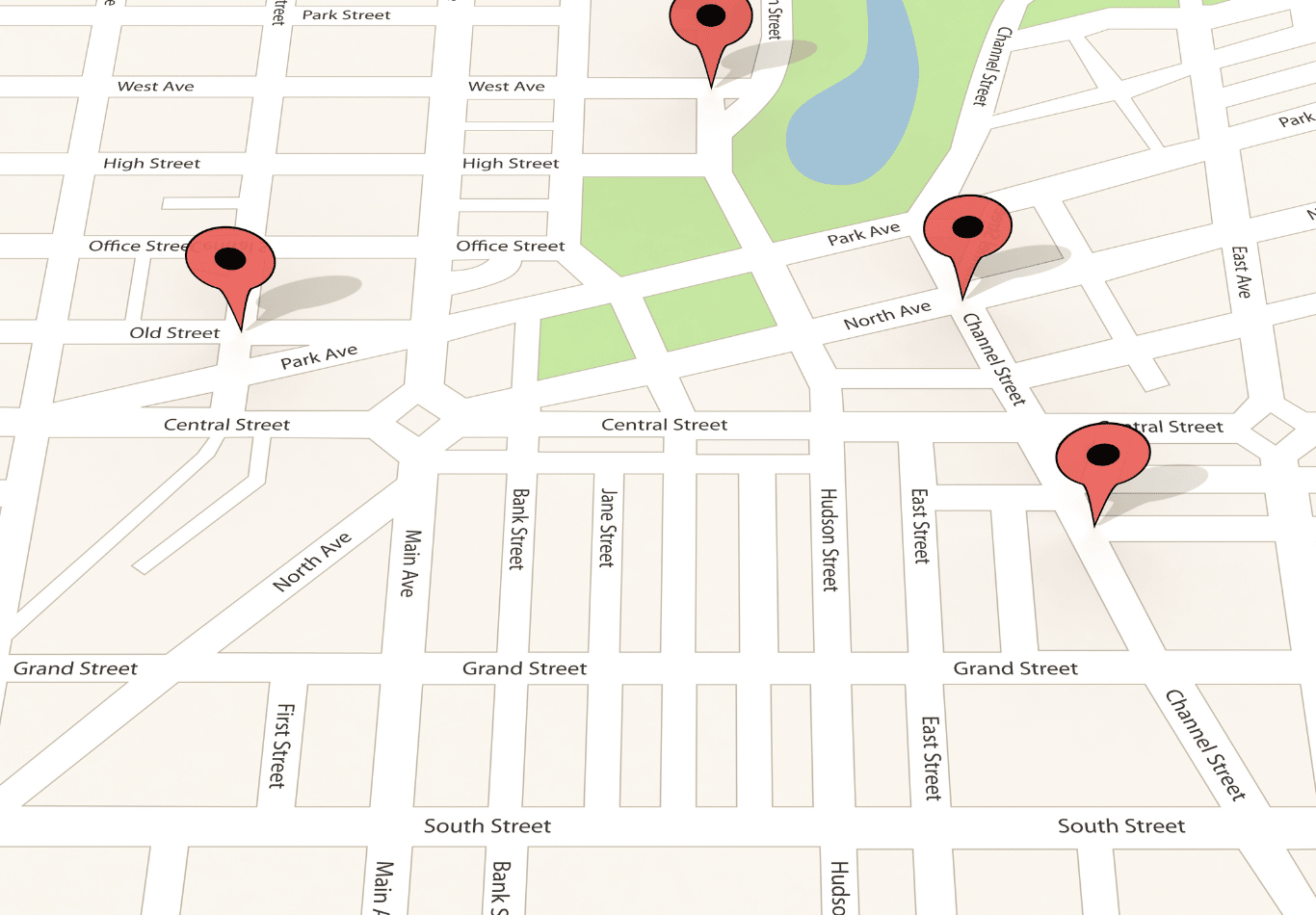 Lack of route planning or diversions
Not taking low bridges into account when planning a route is a leading cause of low bridge strikes.
Poor route planning or relying on a GPS system that may not contain any information on low bridges can lead to drivers unexpectedly encountering low bridges. Also, road closures and diversions can force drivers to drive along unknown routes which could have low bridges on them.
The Low Bridge Alerting System identifies potential risks based on the direction the vehicle is travelling which removes the potential for this type of human error when planning a journey. Both drivers and fleet managers can be reassured that there will be enough time to divert if a low bridge is detected.
How can technology help to prevent bridge strikes?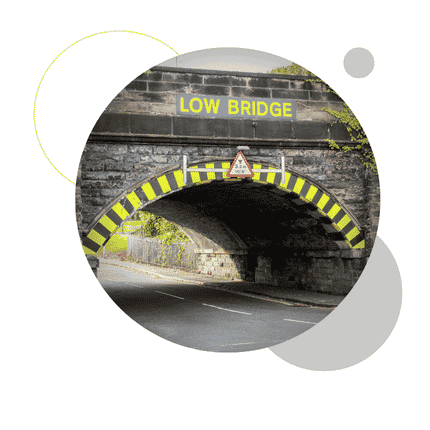 Relying on a driver to measure the height of their vehicle before every shift, pick an effective route that takes all low bridges into account, and spend time picking a new route if there are road closures and diversions can add to their already high workload. Also, excessive alerting can result in drivers losing the confidence to trust in alerts given to them in-cab as there are too many false positives.
Our Low Bridge Alerting System is a bridge strike solution that acts as a preventative measure to help fleets prevent low bridge strikes with no driver input required.
With this solution, the driver doesn't need to know the height of the trailer their tractor is attached to, as it has already been inputted into the alerting system meaning they can let this innovative technology alert them when a low bridge is along their route, giving them every opportunity to avoid a collision.
>> Learn more about Low Bridge Alerting System

Jeremy Vine talking all things low bridges...
Following Network Rail's release of a list detailing most struck bridges last year in the UK, Jeremy Vine and his guests on BBC Radio 2 discussed the consequences of bridge strikes and the difficulties of preventing them.
Drivers failing to measure the height of their vehicle before a journey was cited as one of the main reasons for low bridge strikes along with poor route planning and drivers not reading road signs.
One of Vine's guests, Kate Snowden from Network Rail, said the company 'would be coming for' those responsible for bridges strikes in the form of compensation due to the significant cost these collisions place on the taxpayer.
This is why it's hugely important for fleets to make sure they are taking steps to prevent these strikes from happening. As the Low Bridge Alerting System requires no input from the driver and alerts them accurately to low bridges ahead, this innovative solution can help to avoid these hefty fines and minimise disruption to operations.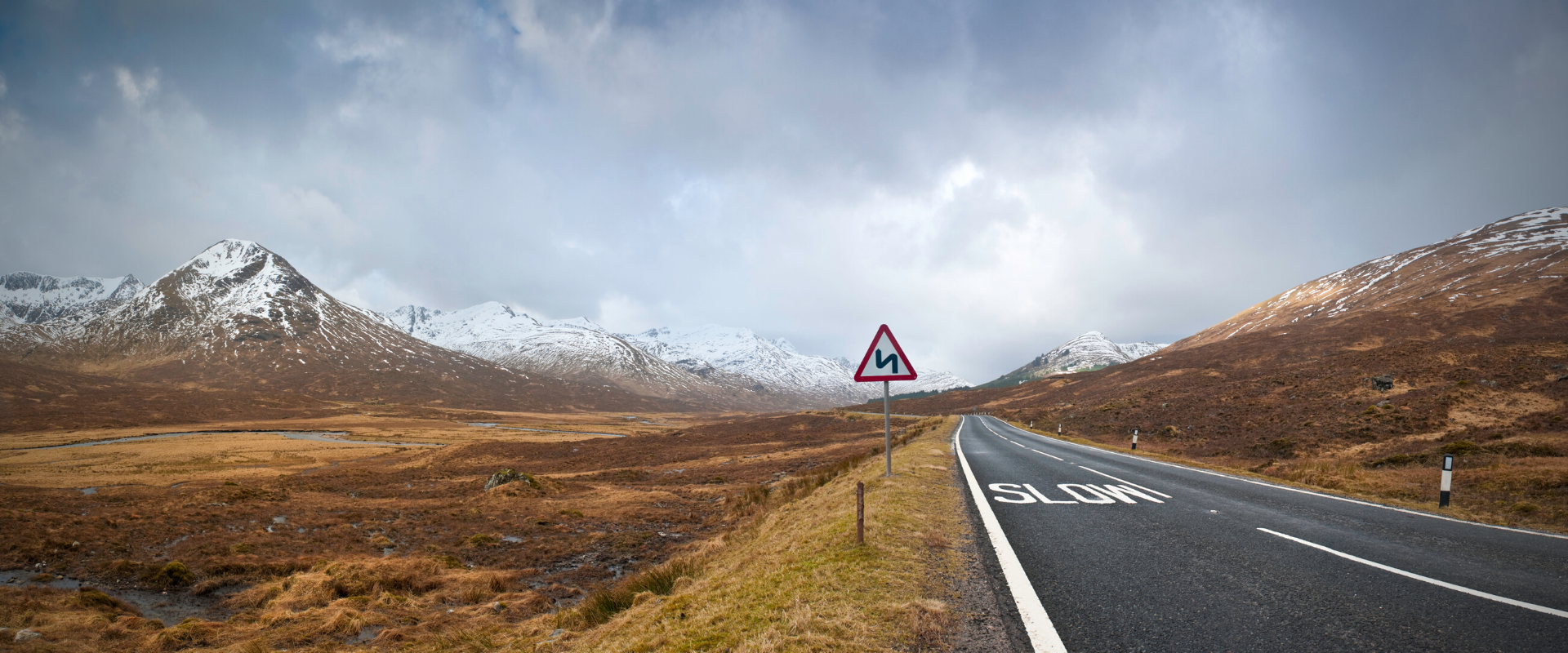 Address
510 Metroplex,
Broadway,
Salford Quays
M50 2UE